An example of Knitiffi in action
Are you a creative looking to meet commissioners?  Or a commissioner looking to meet creatives?
Join artist Ali Brown in a workshop to encourage creative match-making for projects, ideas and skills. Ali Brown is the founder of Knitiffi, a collective of knit artists who breathe life into inanimate objects using knitting.
Creative Networking – Urban Kniting – Aruba Stones 
Wednesday May 7th 2014
6:30 – 8:30pm, The Surrey Vaults, Bristol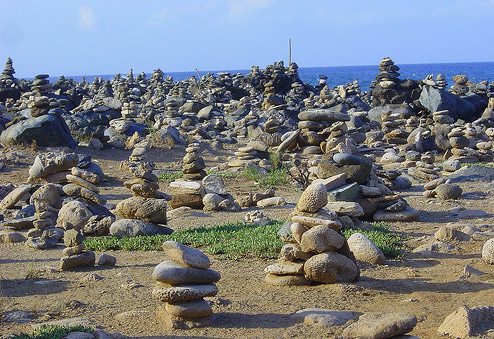 Aruba wishing stones
In this workshop Ali Brown will help you create your own piece of knit graffiti and be a part of a 'Knitiffi' style installation. In Aruba, the Caribbean, a beach is full of stacks of rocks – there is an old island tradition where visitors and residents alike come to offer wishes for health, for wealth, and for happiness.Inspired by this tradition we will be adding some knit graffiti to our stones and building our own stacks full of wishes. Knit, crochet or embellish a pre -knitted panel and fit it to a stone and attach to it your wish culminating in an outdoor knitted art installation. This will be a time for creating, discussion and reflection and chance to experience being a part of a knitted community.
Creativity and communication will be encouraged throughout and you'll have the chance to freely network with a group of like-minded professionals. No previous knitting experience necessary.
This event is part of a series of creative networking evenings please sign up to the Bristol Arts and Health Forum Blog to keep updated.
Knitiffi in action around Bristol